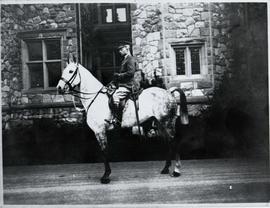 James Dunsmuir Jr on Kismet outside Hatley Castle. Kismet is standing still
James Dunsmuir Jr, known to his family as 'Boy', and to others as Jim, was born in 1894. His childhood education took place at Loretto, a private school in Scotland, where he became an accomplished lightweight boxer. After he completed his schooling, Jim went to Montreal and worked as a private secretary at a bank. With a lifelong love of horses, it came as no surprise that he enlisted in the B.C. Horse and later the 2nd Canadian Mounted Rifles (CMR) stationed at Willows fairground in Victoria at the outbreak of the First World War. Having taken the cavalry school course in Winnipeg, Jim was made a lieutenant, but he quickly grew frustrated with the seemingly endless ceremonial duties of the CMR. Anxious to contribute to the war in Europe, Jim resigned his commission and set sail for England to join a British cavalry regiment. Jim departed from New York on May 1, 1915, on the luxury passenger ship Lusitania. Tragically, as the ship neared the Irish coast on May 7, it was hit by a German torpedo and sank. His body was never recovered.
This image, with Jim sat on his horse, Kismet, was taken when he was stationed in Victoria. There are similar versions of this photograph in this and other collections.