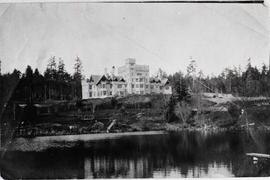 Ground being prepared for Italian garden and croquet lawn. View from lower pond looking northeast
Hatley Castle was designed by renowned British Columbia architect Samuel Maclure for James Dunsmuir. Using only the finest materials, builders, stonemasons and detail carpenters only took 18 months to construct the building from 1908 until 1910. The construction was overseen by contractor, Thomas Catterall.
The Italian garden to the west of the castle was added as part of extensive development of the Hatley Park estate by Boston based landscape architects, Brett and Hall from 1912-1914.